2021 Ram 3500 in New Glasgow, Nova Scotia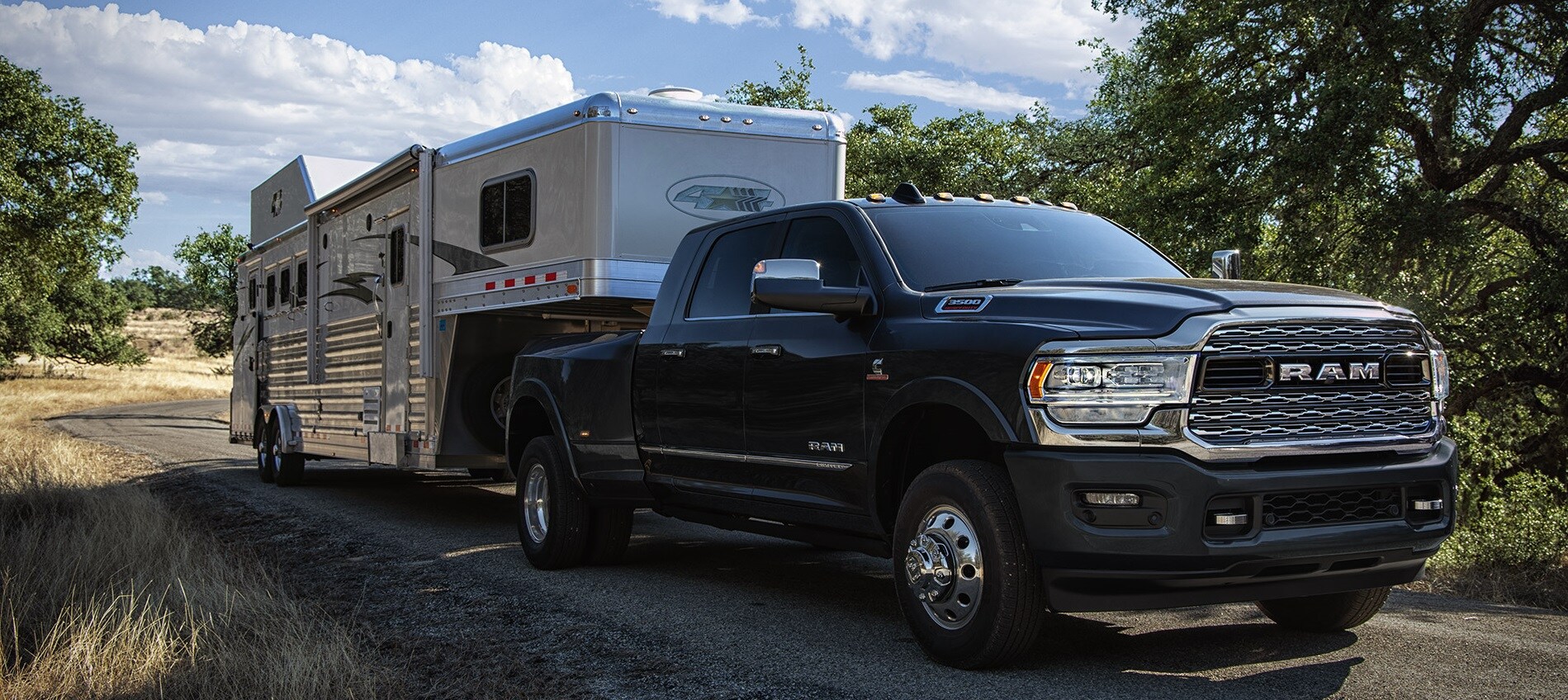 2021 RAM 3500 in New Glasgow, NS
The 2021 RAM 3500 hits the showrooms with a muscular look and tremendous towing and hauling capabilities. The RAM 3500 features a substantial payload as well, and it can be equipped with additional equipment to tow even heavier loads than its standard ratings. You have the choice between a gasoline and a diesel engine. With the diesel, you'll get class-leading tow ratings and torque. It is coupled with its powerful tow and power ratings. The RAM 3500 is known to be one of the most comfortable trucks on the road, includes a connected cabin with premium safety and technology features. Browse through our Ram inventory and explore the array of features and trim levels of the RAM 3500.
RAM 3500 Interior and Exterior
At first glance, you'll see that the RAM 3500 has a distinctive and dominating presence. Thoughtful touches such as chrome accents from the hood to the tail lights add to the RAM's appeal. LED lights are standard on the RAM for optimal visibility. The truck has a broad front grille that enhances its square design. You have a choice of six-wheel colours and sizes, and along with the standard exterior features, new additional exterior features are available through packages. You can get body-coloured rear bumpers and door handles with black interior accents for your truck if you choose either the Laramie or the Big Horn models.
RAM 3500 Exterior
RAM 3500 Interior
Once you peek inside, an equally appealing interior embraces you. The 3500 cabin comes filled with premium features and amenities, including LED ambient lighting and dual-zone climate control. Heated seats in the first and second rows are available with select trim levels. The RAM 3500 is well-suited for work of all kinds on the road with two standard 12V power outlets. A massive centre storage space with a full-length console also provides you with many convenient places to store your belongings. The trim levels that have bucket seats have additional storage space. Opting for the Cargo Management Storage Solution system makes storing cargo in the back of your RAM easier. The storage compartment is waterproof and easy to lock. It also has a 115V power outlet that is useful for charging your batteries and tools.
RAM 3500 Cargo Capacity
The RAM 3500 comes in several body styles and three different cab designs with two box sizes. The Regular Cab, Mega Cab, and the Crew Cab. The Regular Cab has a total length of 2.4 m. The other two cab beds have the same length of 1.9 m. You can get a storage organizer system for both types of cab beds, and you will also get top-rail covers for added durability. If you are thinking of purchasing the RAM 3500, our Finance Centre has all the details that you need to know about vehicle payments and the types of financing arrangements available.
RAM 3500 Performance and Towing Capacity
The RAM 3500 uses two engines that determine its towing power. To start, you can get a 6.4-litre V8 engine with a maximum tow rating of 8,260 KG. You can also get a diesel engine that provides the truck with the best-in-class torque and towing power of 16,828 KG. The RAM has a maximum payload of 3,134 KG with the diesel engine.
Test Drive the 2021 RAM 3500 in New Glasgow, Nova Scotia
To learn more about the RAM 3500 and all its advantages, don't hesitate to contact us today for a test drive. The helpful staff at Atlantic Dodge can provide you with all the details about the RAM and its features.
Make an Inquiry