2021 Jeep Wrangler In New Glasgow, NS

2021 Jeep Wrangler Review - Atlantic Chrysler Dodge Jeep Ram
The 2021 Jeep Wrangler is the culmination of 75 years of engineering and design. Its roots date back to World War ll, where the allied troops required a military-grade vehicle that could withstand the harshest of conditions and was able to conquer off-road terrain. At Atlantic Dodge, we are proud to offer a full lineup of Jeep models. It is apparent that the 2021 Jeep Wrangler takes its design cues from the original, built over 70 years ago. However, the appearance may look similar, but the two models could not be more different. At Atlantic Dodge, we have a great selection of Jeeps in our new vehicle inventory, so browse online or in-store.
The 2021 Wrangler features a full array of sophisticated powertrains, a full range of power options, luxed-up leather upholstery, Uconnect infotainment system, Wi-Fi hot spot, and even a power soft top. Consumers have the option of ordering the base with a two-door setup, or if they require more space for occupants, a four-door Unlimited model is also available. Those who enjoy the wind through their hair and not from the windows being down, remove the roof and doors and truly enjoy the Wrangler the ways it's meant to be both off-road and on-road. The best time for a Jeep is anytime, so book your test drive today. It's never been easier to get behind the wheel of a Jeep Wrangler; just complete our and get pre-approved.
Hybrid and Plug-In Hybrid
The 4xe will be a pairing of the 2.0-litre turbocharged four-cylinder and two individual electric motors, one that will act as a starter-generator producing 44-hp and a second unit integrated into the eight-speed transmission that generates 134-hp. This coupling provides the 4xe a peak horsepower of 375 and 470 lb-ft of torque. A 17-kWh lithium-ion battery pack sits underneath the rear seats and can travel through up to 30 inches of water. When the battery is fully charged, the 4xe will offer up to 40 km of all-electric driving, while a 240-volt level 2 charger will have the battery topped up within two hours. The 4xe powertrain is designed to allow approximately up to 40 km of electric-only driving and an astounding zero to 100 km/h time of 6.0 seconds. The 4xe will only be available on the four-door Unlimited models. The standard V6 engine and the four-cylinder engine can be paired to a hybrid assist system that utilizes a smaller battery to provide electric energy when required.
2021 Jeep Wrangler Interior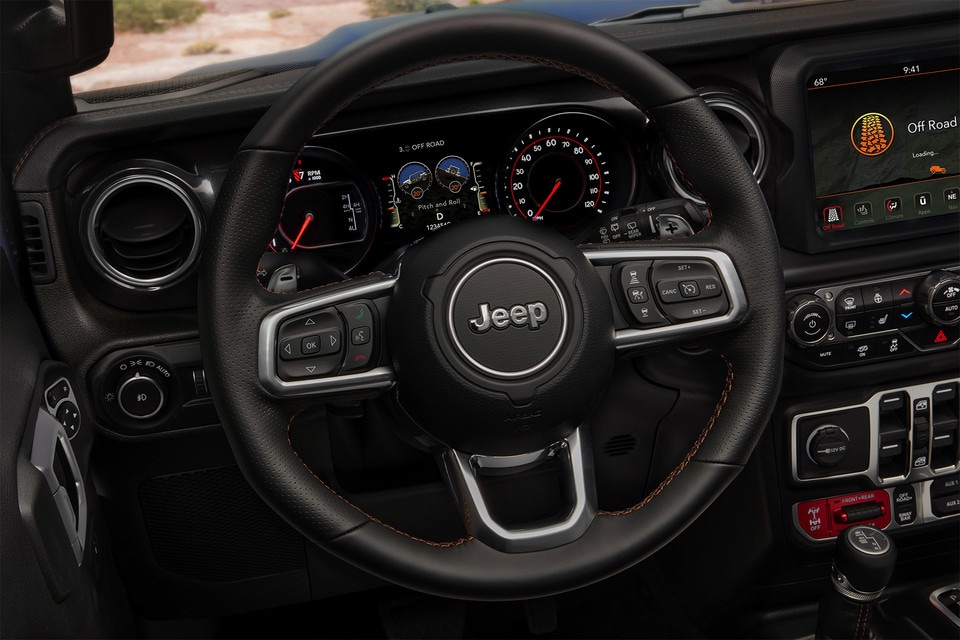 2021 Jeep Wrangler Exterior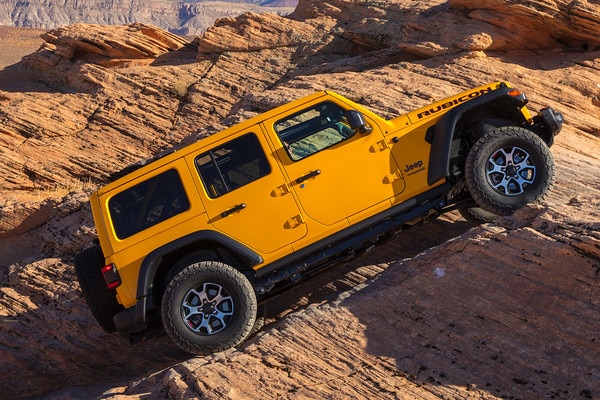 Interior
The Wrangler offers an abundance of space and provides a seamless blend between vintage and modern Jeep design. The driver has spoiled with an unobstructed and commanding view of the road ahead or trails, for that matter. The lifestyle which the 2021 Jeep Wrangler calls to is one of adventure, outdoor engagement, and wanting to stand out. The driver and front passenger will be seated close to an almost vertical windshield; in front of them, the dashboard is punctuated by round air vents, a chunky knob for the climate control system, power windows and a nicely placed infotainment system. Android Auto and Apple CarPlay are both optional, as is a nine-speaker Alpine audio system and navigation. With various trims and colours to choose from, you can make your next Wrangler just the way you want it.
Technology, Safety, and Performance
It was unheard of 10 years ago that a Jeep Wrangler would have the technology you can obtain today. Key driver-assist features include optional blind-spot monitoring, optional rear cross-traffic alert, and optional rear parking sensors. The 2021 Jeep Wrangler Changes are enough to set this vehicle apart from anything else in its segment. To add more technology to this Wrangler is the world acclaimed EcoDiesel. The EcoDiesel is third generation turbocharged 3.0-litre V-6, it's mechanically the same as the engine found in the Ram. It produces a healthy 260 horsepower and 442 lb-ft of torque that is sure to push you back in your seat. 31.9 pounds of boost enter the combustion chamber, and peak torque arrives at only 1400 rpm. You are sure to have even more fun with this unique powerplant. If you have any questions please don't hesitate to contact us for more information.
2021 Jeep Wrangler In New Glasgow, NS