2022 Jeep Wrangler vs. 2022 Ford Bronco

2022 Jeep Wrangler vs. 2022 Ford Bronco
At Atlantic Dodge, we stock our new inventory with various off-road-capable SUVs that will meet and exceed your expectations, allowing you to get a vehicle that handles off-road terrain with complete ease. From our vast selection of vehicles, you will find the 2022 Jeep Wrangler, a legendary SUV that stands out within its segment for being incredibly good at off-roading. Be sure to visit our showroom to explore the latest Wrangler in greater depth and let our experts show you how it stacks up against the competition.
Jeep Wrangler vs Ford Bronco Interior & Exterior Styling
The 2022 Wrangler has a boxy exterior design that incorporates various rugged styling elements from Jeep, including its seven-slot Jeep signature grille and removable body panels. You can configure the Wrangler in various ways, including opting for two-door or four-door models that let you remove body panels for an open cabin driving experience. Inside its cabin, the 2022 Wrangler features a practical interior that's comfortable with outstanding technology offerings to keep you connected and entertained.
For its exterior styling, the 2022 Bronco also has a somewhat boxy design, but it gets rounded edges and few sharp lines, making it look less rugged than the Wrangler. However, it has removable panels that enhance its driving experience off-road while featuring standard steel wheels rather than the standard aluminum option found on the Wrangler. Inside its cabin, the Bronco gets a minimalistic interior with knob and button controls, giving you an adequate driving experience.
2022 Jeep Wrangler Exterior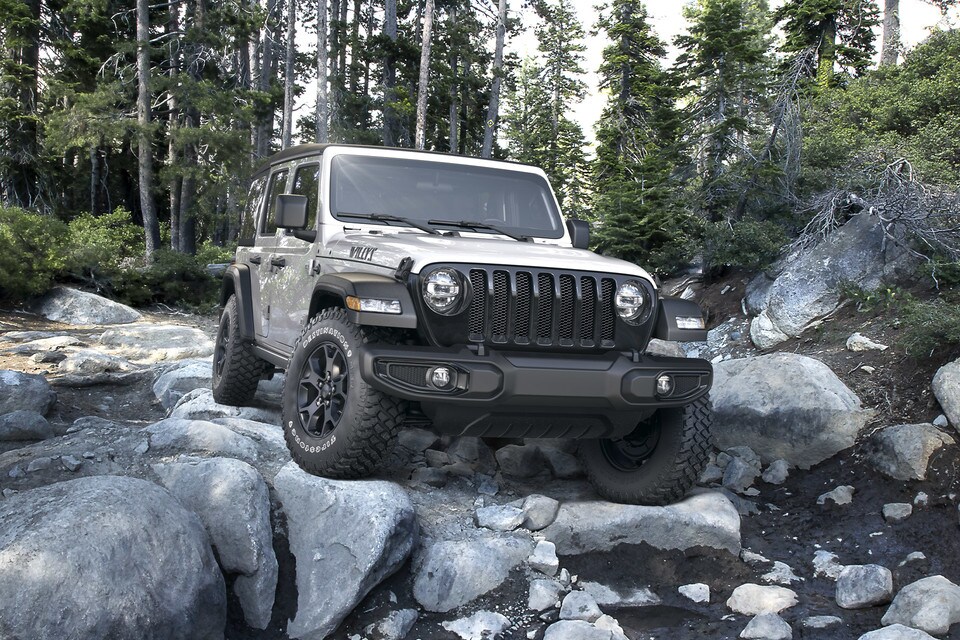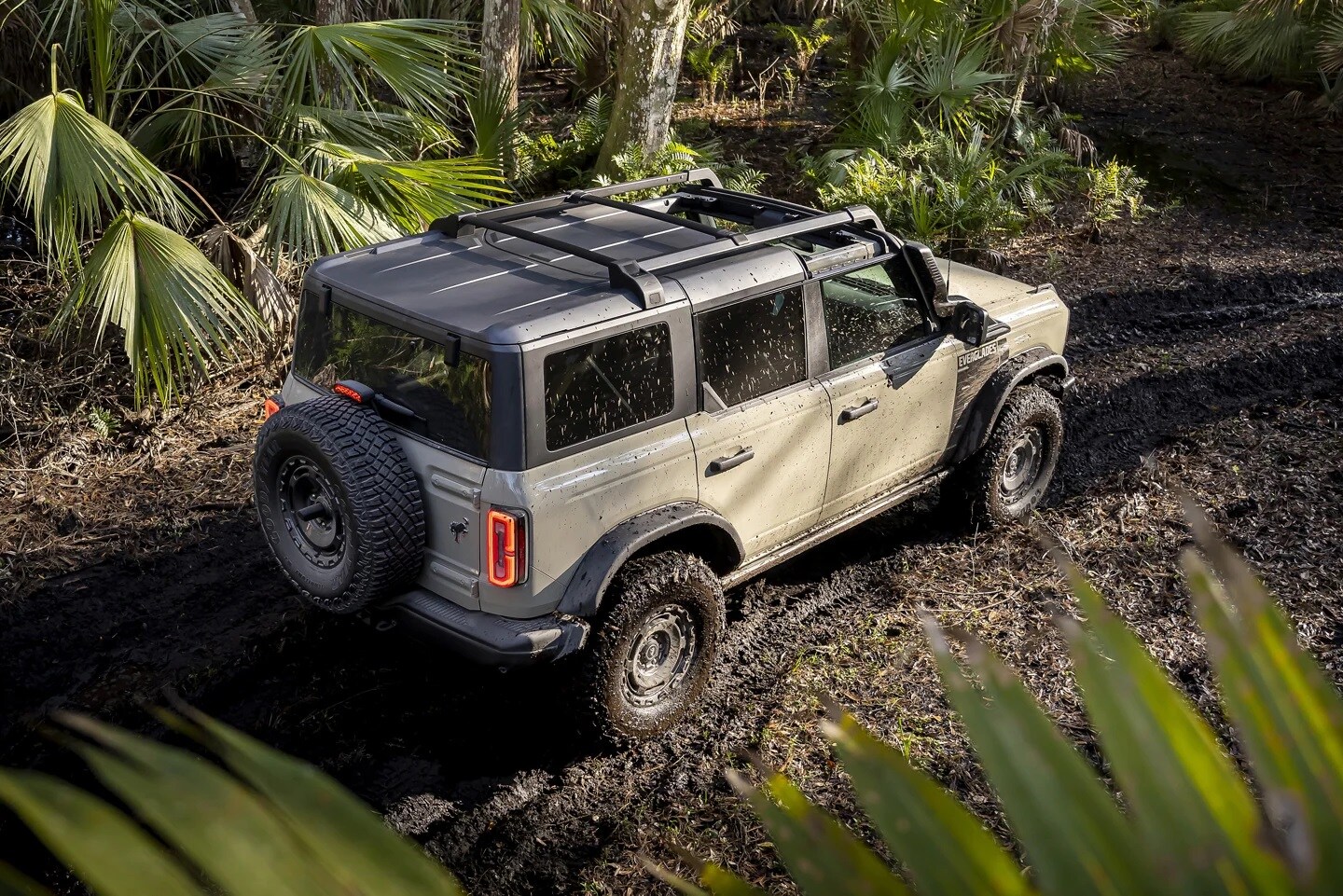 Wrangler Vs Bronco Engine Options & Performance
You will find multiple engine options when configuring the 2022 Wrangler, which comes as standard with a 3.6-litre Pentastar V6 engine that pairs with a six-speed manual transmission. The Jeep Wrangler gets output figures of 285 horsepower and 260 lb-ft of torque with the standard powertrain. However, you can equip the 3.6-litre Pentastar V6 engine with an eight-speed automatic transmission that also brings the eTorque mild-hybrid system, giving this SUV better performance. Optional on all four-door Wrangler models, you can get the 3.0-litre EcoDiesel V6 engine, which offers 260 horsepower and an incredible 442 lb-ft of torque. Another optional engine is the 2.0-litre turbocharged four-cylinder engine, available on all trim levels, delivering 270 horsepower and 295 lb-ft of torque. Opting for the Rubicon 392 trim level brings an exclusive powertrain option, the 6.4-litre V8 engine with 470 horsepower and 470 lb-ft of torque, giving you the most output from a Wrangler ever.
On the other hand, the 2022 Bronco offers three engine options, with the standard offering being the 2.3-litre EcoBoost, delivering output figures of 275 horsepower and 315 lb-ft of torque. Upgrading to the 2.7-litre EcoBoost increases output to 315 horsepower and 410 lb-ft of torque, allowing this Ford SUV to accelerate much quicker. For maximum performance and capability, the Bronco can be equipped with the 3.0-litre EcoBoost, which provides an outstanding output of 406 horsepower and 440 lb-ft of torque.
2022 Wrangler Vs Bronco Towing Capacity
The 2022 Wrangler isn't just an amazing off-road SUV since it can also tow 2,000 pounds as standard, allowing you to bring your belongings along for the adventure. The standard towing capacity is limited to the two-door models, while the four-door models can tow quite a bit more. With a four-door Wrangler, you will have a towing capacity of 3,500 pounds, which is a considerable increase over the standard towing, allowing you to tow with complete ease.
Most of the 2022 Bronco lineup gets a standard towing capacity of 3,500 pounds, except for models with the 3.0-litre EcoBoost engine since those get a higher towing capacity. Opting for the 3.0-litre EcoBoost allows the Ford Bronco to benefit from a sizable towing capacity of 4,500 pounds.
Financing Options For Jeep Wrangler
The 2022 Jeep Wrangler is available in 13 trim levels for this model year, giving you loads of options to shop through and explore, including multiple Rubicon trims that bring maximum off-road capability. Securing your dream 2022 Wrangler is easy when you visit our dealership's Finance Centre to discuss the available financing and leasing options. We even accept vehicle trade-ins, giving you further savings during your Jeep purchase to lower your monthly payments.